Proven Results
Performance Under the Most Extreme Conditions.
Today's vehicles and driving conditions demand greater performance from your motor oil. Other lubricants are also being challenged to meet more rigorous performance requirements to improve efficiencies and reduce costs.

The performance of Kleen Performance Products lubricants has been proven in both controlled research studies and real world applications. If you need peace-of-mind that your oil will stand up to the most demanding conditions, look no further than the oil that runs in NASCAR races, stands up to the rigors of military combat and outlasts the million mile journey of a heavy-duty truck.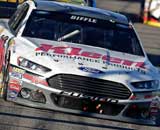 Performing at 200 mph
Kleen Performance Products protects engines at racetracks across North America. Learn More
EcoPower maintains 15W-40 API CJ-4 viscosity grade characteristics (12.5 to 16.3 cSt), even after 500,000 miles and 40,000+-mile oil change intervals.
EcoPower possesses acid neutralization capability, even after 40,000+ miles of service.
EcoPower maintains viscosity grade characteristics even after 1,000,000 miles and oil change intervals of 40,000+ miles.
After a million miles, EcoPower continued its impressive acid neutralization capability.
Little engine wear - crankshaft, fuel injector camshaft, valve break camshaft, rocker assemblies and connecting rods were used to rebuild engine.
"In this engine, I see no signs of distress anywhere. In fact, these [original] cams meet the visual guidelines for reusability. And when we rebuild these engines...the cams are going right back in the engines, and they'll be going back into service with these cams, even after a million miles."
Pat Fetterman, Industrial Liaison, Infineum*
*Infineum International Ltd. conducted the test